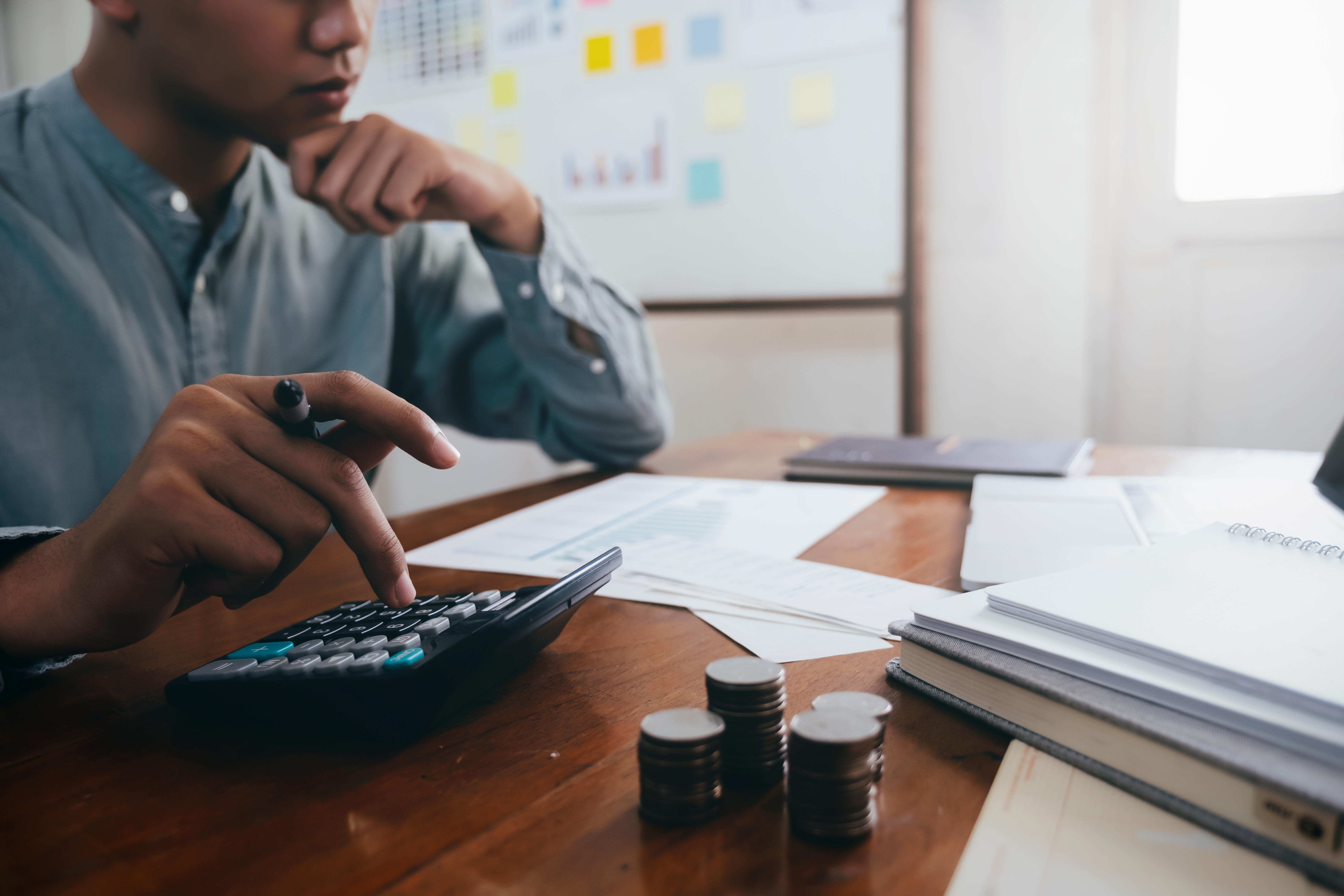 How to demonstrate the real value of sales associate training
You know your sales associates are central to the experience customers enjoy in your stores.
More and more expectation is placed upon this workforce; They are your brand advocates, complaints handling team, cash handling trustees, problem solvers and often ad-hoc councillors!
Empowering these sales associates is essential if you plan to maintain a growing brick and mortar business. You must make sure your stores are staffed by well trained, engaged and motivated people, ready to live your brand and connect with customers.
The world has changed and you know you need to up your game on training to create these superstar sales associates that customers demand. Oh, and by the way, margins are ever more squeezed, so you better be ready to do more with your learning and development budget.
In this post, I am going to walk you through the steps you need to take to resist pressure on budgets and fear of 'black hole spending' leading to dwindling investment in training.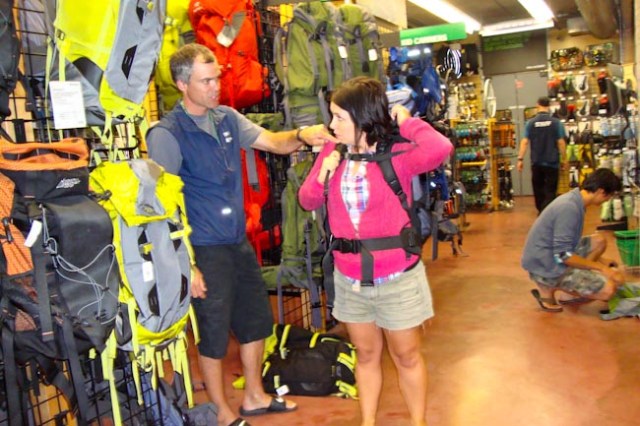 Know where you are:
You need to be able to answer these questions in order to understand what your current spend looks like and how it's being deployed.
How many hours training per year does a sales associate receive at your company? There is huge variation company to company on what's considered the right amount. My bet is that what you have doesn't feel like enough and might be well below your competition.
How does the timing of training delivery compared to the attrition rate of your staff? Often training is front end loaded (skewed by induction and compliance), right in the zone when the highest employee attrition rates occur. You may be allocating training budget to a high number of people who will leave before they become useful.
What subjects are you covering? Compliance and operational tasks take up a lot of budget and whilst helping your machine run, they don't do anything to create sales readiness for the associate who needs to advise and guide a customer to a sale.
Are you using all the available funding you can to support training, from both internal sources and external schemes? A large amount of training tends to be deployed to support company wide projects, like IT- Where is the budget coming from?

How about tax and training incentives at government level? Perhaps you can attribute some costs to these schemes, making your $$ go further.
Modeling your spend and ROI:
Armed with a complete view of your current training and spending programme along with some facts about your company performance, you are well placed to address change.
One of the most important things you can do to make the case for increased training investment is calculate the effect it will have on financial results. This is the core of the ROI justification around which you can add less tangible outcomes later.
Here's an example that you can follow with your own numbers.
Impact on Retail P&L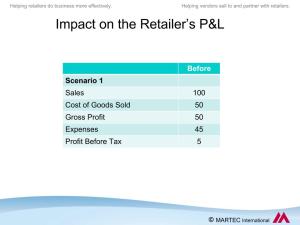 These are some sample numbers which sit within a reasonable spectrum of real world retail performance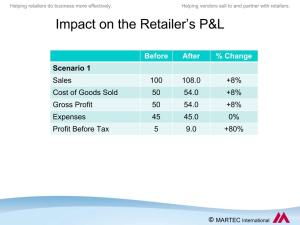 We are assuming a sales increase of 8% because of sales and customer experience training with your associates. The net effect on the pre-tax profit as you can see is actually massive in percentage terms. Even factoring in the cost of training to the overall expenses budget doesn't impact the final numbers significantly.
Of course, these are sample numbers, I recommend you plug in your own figures and see what that looks like. We discuss this modelling process in a lot more detail and factor in much more in our podcast with Managing Director of Martec International Brian Hume.
What about the real world?
The model above is well, just that, a model. What evidence is there of results?
While the numbers might change, the truth is well trained staff sell more! Marshall Fisher puts the figure as high as 69% more when compared to a less skilled sales associate
A study at Dillards Dept Store showed a less dramatic but still blistering 23% uplift
A project with TM Lewis the UK shirt maker saw a companywide 10% increase is sales when they deployed and trained their staff to use a new tablet based sales tool in stores
These numbers certainly make the 8% assumption in the model above seem more reasonable.
Moreover, if you sell more, you must be selling faster? So your rate of sale increases, you turn stock more quickly and your markdowns could well be reduced too. All helping to build the GM and profitability of the company- None of which wasn't factored into our simple model.
The additional benefits of increased training
Well trained staff feel they are invested in and will remain with you longer, reducing churn. What are your current churn rates? What direct costs does this create for your business in recruitment and de-hiring processes?
A lower churn rate can change the culture in your business and actually make hiring easier. How does your company fair on sites like Glassdoor
Experienced staff are more efficient, they make less mistakes and they know how to navigate your systems quickly. Have you considered how much this represents to your company in $$ terms?
These same longer-term employees also benefit from compounded learning. Over time, you are layering your training on top of practiced skills, reinforcing your methodology. This is a far more effective strategy than force feeding info to an inexperienced learner.
Testing the theories
Ok- you have your model, your management team is sceptical of your numbers, so have cut them in half and it still looks OK… so what's next?
The great news is that with multiple locations you have to benefit of being able to test your theory without going all in with a companywide roll out at day one! Test!
Take a small sample of pilot stores, set up a control group of stores with similar characteristics, then try out your new training plans to see what impact they have in the pilot stores. A
pilot could be one store, but I'd suggest going for more to give you more valuable results.
Maybe your aim is to ultimately deploy your new training plans online- great, it will certainly save you time and money when you roll out. But test your plan in a low-cost way, don't build the perfect mouse trap without testing your theory.
Analyse the outcomes. Look at all the variables that could impact your success and isolate both the positive and negative. One thing is certain, you will change something… so what you need to understand is what happened and why compared to the control group where you took no direct action at all.
Once you have results, you have a position, much like when you set off with some base line facts. From there you can decide to press on. Maybe you need to adjust your model or deployment and test again? Great. Change the test stores and see what happens.
I hope you found this post of use? Our recent podcast guest Brian Hume, of Martec International explores this subject in a lot more detail. Martec International are a specialist Retail consultancy with over 30 years' experience.
This blog is written in conjunction with Martec International. Selected images are provided by them.